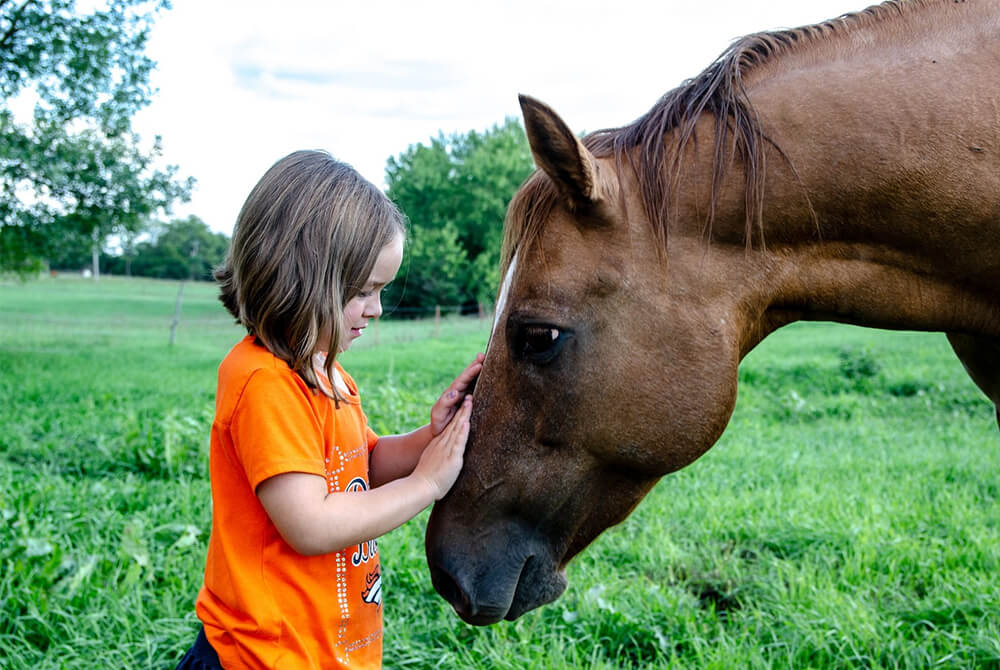 Our Equine Friends
The resulting grief of losing a close friend or family member is unthinkable and it takes an immense amount of support, reflection and kind words to pull through. But, 
by the grace of God
, loss can inspire incredible action. Finding the silver lining is important and that means treating loss as a reminder of the blessings and opportunities we often take for granted.
Molly Reeser is one of the really special people who took her grief and used it to transform the world around her. In a time of loss, she didn't give up hope—instead, when her best friend succumbed to cancer, she found her path and decided to open a pediatric horse camp to benefit children and their families. Here's her story.
Bonded by the Love of Horses
As an impressive student with an excellent track record and big heart, 
Molly Reeser
 enrolled in Michigan State University to complete her degree program. She worked hard to put herself through school, eventually taking up a part-time job mucking out horse stalls to help cover the cost of her tuition. While working at the local barn, she soon crossed paths with a bright young soul.
Casey
 was a sweet and patient 10-year-old girl who loved horses. It's not an uncommon trait for a young girl, but for Casey, horses had a special place in her heart. Casey was a cancer patient and her time at the barn allowed her and her family a chance to escape from the pain and fear they endured daily. Before long, Molly and Casey became good friends.
Every time Molly visited the barn, she took note of how bright and positive Casey's attitude was. She had the kind of smile that could light up a room. As any animal lover should be, she was patient and quiet and horses helped her to enjoy the moment—moments that went by far too fast.
Molly spent a lot of time talking to Casey and her family during their hours at the barn, but what she loved most of all was seeing Casey's eyes light up each time she approached one of the horses. Tragically, Casey passed away just two years after she and Molly met. The entire barn was devastated by the loss of her vibrant spirit.
"Everyone at the barn wanted to do something to honor her memory," Molly recalled. Countless suggestions were passed around in the weeks to follow, but for Molly, she felt that something bigger needed to be done.
Giving Joy to Those Who Need It Most
Everyone who knew Casey found their own way to honor her memory, but Molly dreamed even larger. "I knew that there must be other families who could benefit from horses in the way [Casey] and her family had." So, Molly went to the owners of the barn and asked their permission to hold a one-day event.
Molly was inspired to invite pediatric cancer patients out to the barn to help them make the same connection that Casey had found. She was convinced that the peaceful setting, beautiful horses and quiet surroundings could help these children and their families enjoy some brief moments of solitude, just as it had helped Casey. The barn owners agreed with excitement.
Molly didn't have a lot of money to organize the event, but her closest friends and her "emergency" credit card allowed her to assemble the first-ever Camp Casey. She contacted the local hospital where Casey had stayed and found 20 patients to invite, along with their parents and siblings. Camp Casey proved to be a huge success and Molly ended the day 
proud of the small impact
 they had made.
The event was supposed to be just one day, but as Molly put it, "Casey had other plans." A week later, Molly got a letter from a five-year-old brain cancer patient who had attended Camp Casey. He described it as the best day of his life. Suddenly, Molly was overwhelmed with a sense of urgency and responsibility. She immediately realized that her one-day event was needed by her community.
If you're a pastor trying to inspire hope and giving in your community, Donorwerx can help. 
Begin learning how
.
Faith Allowed Camp Casey to Come to Life
In the years to follow, Camp Casey was held every single month. After her graduation, Molly took a deep breath and confessed her dreams to her parents. Instead of starting her career, she was going to take up waitressing for a year in hopes that she could turn Camp Casey into a full-time nonprofit organization.
As it turns out, Molly would spend the next six years waitressing, but she 
never turned her back on her calling
. With her in her soul, she was able to open Camp Casey in 2010. The camp had a 
fully paid staff
, countless horses and the ability to support young patients who needed a safe escape.
"I am grateful for all the ways I've experienced good luck in my life and, therefore, I believe I have a responsibility to give back. It brings me tremendous joy to see people, animals or things coming together to create goodness in a world that can often be filled with hardships."
Every year, over 1,500 children in Michigan are invited to 
 Camp Casey 
to join one of four completely free programs. Those under 18 with cancer, sickle cell disease and other life-threatening illnesses are brought in to enjoy recreation and accessible horseback riding in a setting that's peaceful and restorative, allowing them to escape the pain and fear of their illnesses. If you'd like to support Camp Casey or learn more about what they're doing, 
visit the website
.
How Donerwerx Can Help
Are you a pastor looking to inspire giving in your community? Help your congregation remember the importance of giving back and paying it forward with our coaching program and donation software.
Get started
 today!